I really liked brewing my own beer. But I hated bottling, enough to where I knew it would keep me from wanting to brew. All those bottles stacked up, and to clean, and wash again later, and fill. It looked bad. I decided I would start kegging my own beer. At first I thought about a chest freezer or something as I'd really like more than just two beers on tap at once, not to mention cold storage and lagering capacity. When it comes down to it though I may move into another apartment soon and I wanted something that wouldn't take up a ton of space, be impossible to move, or even look all that bad. Cost was a concern, but it took something of a back seat to looking good.
I decided on the Sanyo 4911 for its nice looks and known conversion capability. I made certain to measure multiple times before attacking it with the drill.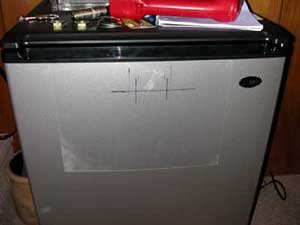 I had read all about sticking faucets and mold build up in the traditional design and didn't want to deal with that so I decided on Perlick forward sealing stainless faucets. At first I planned on a full stainless steel shank for the through the door assembly, but the cost was prohibitive. Instead I got a traditional shank with a stainless flange on the front. Great looks, low price.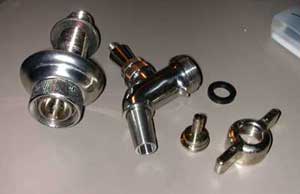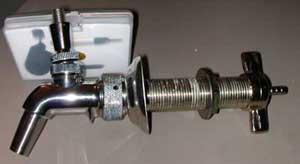 I found a cheap supplier of ball lock pepsi kegs and purchased four, even though I think I'll want more. I checked local places for a used co2 tank but with no luck. I wound up buying a new brushed aluminum one, which was a pain to get filled without trading it in. In the end I found that at a local fire extinguisher shop.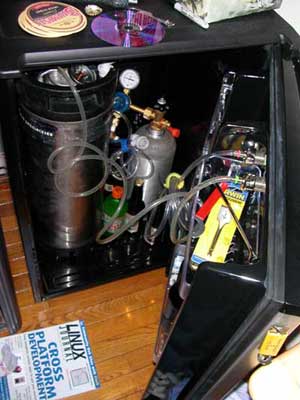 I wanted unique tap handles and found some granite ones on ebay which I quickly snapped up. A stainless drip tray on the front completed the look and everything fit in well enough to let me retain use of the inner door.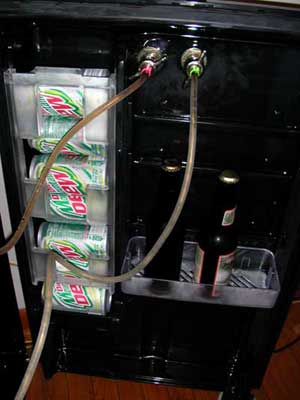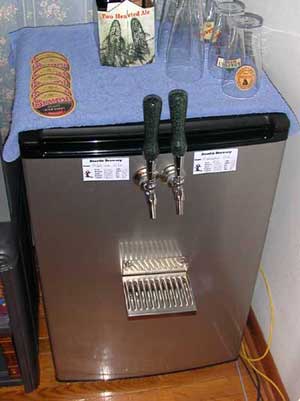 Cost Breakdown